The final concert of our 59th season (taking place at Helzberg Hall on May 6th) will feature the winner of this year's Young Artist Concerto Competition (Betti Kelley, left). KCCO is proud to support and encourage young musicians – not only because we believe in the importance of the arts in general and the value of learning to play an instrument, but also because involvement in music has been shown to have substantial benefits for students.
In addition to providing a skill that students can use throughout their lives, research has also identified a "strong relationship between sustained involvement in instrumental music … and high level math proficiency (view source)," that "successful music students tend to possess the qualities and skills that are generally considered essential to employers… (view source)," and that students who "participated in band, orchestra, chorus, or in a school play or musical were significantly less likely than non-participants to engage in problem behaviors… (view source)."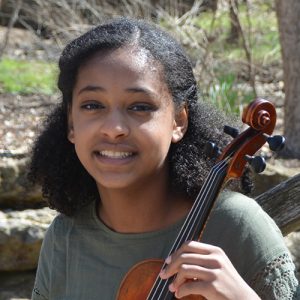 We've asked our KCCO musicians to share their stories of how music has affected and benefitted them throughout their lives, and we're sharing those stories here. You will see that for many of our musicians (over 50 of them) the Youth Symphony played a big role in their development, and that is true for today's young musicians as well – our Young Artist Concerto winner (Betti Kelley, right) is a member of the local Youth Symphony!
We'll be adding more stories throughout the next several weeks, so check back often. We hope you're as inspired by these stories as much as we are, and we look forward to seeing you at our May concert, "Surround Sound at Helzberg Hall!"
Click on the quotes to view the musicians' full statements below.
Music has been a large and necessary part of my life, though always as an avocation. In high school, playing clarinet in the band kept me out of the clutches of the football coach, which doubtless explains why, six decades later, both knees and at least some grey matter remain intact. Back then, also a neophyte violinist, I joined a local community orchestra and encountered the surpassing experience of being a part of, while hearing, great music. In new cities, music helped me make friends who shared my love of playing chamber music.  Playing music for love while pursuing non-musical careers has been the best of both worlds.
Music has the power to move a person between different realities: from a broken body into a soaring spirit, from a broken heart into the connection of shared love, from death into the memory and movement of life. It takes you into a story that no words can, moving you from one emotion to the next. It bridges the gaps language creates, across cultures and time, sharing the human experience like no other medium can. Music has shown me that deep down we are all the same, and that a universal language does exist. It has taken me from the lowest of the lows to the highest of the highs and been the greatest tool in choosing my path. The best part is it is free for everyone and we can share it with anyone.
I started playing the violin at a very young age. As a child, music was my peer group. Most of my friends were in orchestra. I was a shy kid and didn't really fit in with the "popular" kids. Music was one place where it didn't seem to matter if you came from a rich family or were cool. Everyone in an orchestra is part of the accomplishment when you win a competition or just have an amazing performance. I learned to be confident in front of an audience. I learned that other people counted on me to pull my weight and everyone's success was based on all of us working hard together. I learned a lot about responsibility not only to myself but to the group as a whole. When I was a Senior in high school we competed in the World Youth and Music Festival in Vienna, Austria. We practiced five days a week, even in the summer. We all worked hard to earn the money for everyone to go. You can't just take part of the orchestra! It seemed like an impossible task, but we earned the money and we all went. We won first place, and it is still something I feel a lot of pride in. I still share that with everyone who went with me. After college I played in the Amarillo Symphony until my husband was transferred to Kansas City. Some of my first friends in KC were the people I connected with in the KC Civic Orchestra. I went on to have five children and people have asked me how I found time to keep playing. Music is one of the few things in my life that I do that is just a part of me. It is not about being a mom or a wife or anything else. I do it because it feeds a part of my soul. When things are hard or I have a tough day, it relaxes me. When I hear a piece of music I love it takes me away from everything else. Few things in life can be enjoyed for a lifetime and give us a way to connect, share and release stress. We are all connected by the love of the music. The love of music is a gift you can give a child that they can enjoy for a lifetime.
I grew up with my Father being a music teacher, at the college level. I heard violin from the cradle. I, like my older brother, became a public school music teacher…orchestra director. Music is my life; it brings a great sweep of emotions as I listen and perform. I share that with others through performance, chamber music, and as a hospice volunteer.