Your investment in the Kansas City Civic Orchestra helps provide cultural enrichment to the Kansas City metro area. Sponsorship dollars enable us to cover expenses related to our performances, rehearsals, and outreach programs, including our Chatelain Young Artist Concerto Competition. In return for your support, you will benefit from partnership with an outstanding civic arts organization and from exposure to our highly engaged audience of over six thousand attendees annually.
If you are interested in becoming a sponsor, please email connect@kccivic.org.
Interested in advertising? Learn more about ad rates for the season program.
KCCO Sponsorship Benefits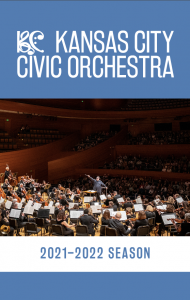 Season Sponsor – $10,000
Exclusive logo placement on season bookmark, (mailed to 1,000+ contacts) and premium items (distributed at select events)
Optional cross-promotion of events or programs on KCCO social media (custom posts promoted by KCCO)
Name/logo on digital and printed marketing collateral (digital and printed flyers, direct mail postcards)
Recognition as presenting sponsor during welcome remarks at each concert
Name or logo on signage and/or on-screen at concerts
Full-page, color ad on back or inside cover of season program
Recognition on KCCO website and email marketing (name/logo with link to your site)
Reserved seats at ticketed concerts
Listing on sponsor page of programs and website
Concert Underwriter Sponsor – $5,000
Optional cross-promotion of events or programs on KCCO social media (your content shared by KCCO)
Name/logo on digital and printed marketing collateral for sponsored concert (digital and printed flyers, direct mail postcards)
Recognition as sponsor during concert welcome remarks
Name or logo on signage and/or on-screen at concerts
Full-page ad in season program adjacent from sponsored concert
Recognition on KCCO website and email marketing (name/logo)
Reserved seats at ticketed concerts
Listing on sponsor page of programs and website
Maestro Sponsor – $2,500 
Recognition as sponsor during concert welcome remarks
Name or logo on signage and/or on-screen at concerts
Full-page ad in season program (non-premium placement)
Recognition on KCCO website and email marketing (text only)
Reserved seats at ticketed concerts
Listing on sponsor page of programs and website
Virtuoso sponsor – $1,000
Name or logo on signage and/or on-screen at concerts
Half-page ad in season program
Recognition on KCCO website and email marketing (text only)
Reserved seats at ticketed concerts
Listing on sponsor page of programs and website
Chair sponsor – $500
Listing on sponsor page of programs and website
Name featured next to sponsored player listing in program