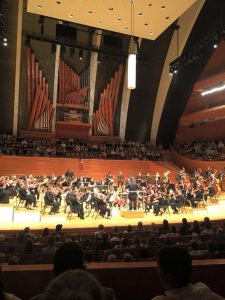 Our final concert of the 2021/2022 season takes place on May 15 at Helzberg Hall. The performance will open with Borodin's exciting Polovtsian Dances. Also featured will be Fauré's beautiful Pelléas et Mélisande Suite and the finale movement of Anton Bruckner's monumental Symphony No. 8. 
KCCO is also excited to present the first and second place winners of the 2022 Chatelain Young Artist Competition.  Making their debuts at Helzberg Hall will be William Savage (11, performing Haydn's Cello Concerto in C major) and Sophia Monroe (15, playing Lalo's Symphonie espagnole).
Please note that, while the concert is free, tickets are required. Tickets may be reserved on the Kauffman Center website or by calling the box office at 816.994.7222. Parking is also available ($10, or $18 for valet parking) and may be purchased when you reserve your tickets.
---
Concert Program
Polovtsian Dances (Alexander Borodin)
Chatelain Young Artist Solos
William Savage (cello) performing Haydn's Cello Concerto in C major
Sophia Monroe (violin) performing Lalo's Symphonie espagnole
Pelléas et Mélisande, Op. 80 (Gabriel Urbain Fauré)
Prélude (quasi adagio)
Fileuse (andantino quasi allegretto)
Sicilienne (allegro molto moderato)
Mort de Mélisande (molto adagio)
Symphony No. 8, in C minor, WAB 108, Haas Ed. (Anton Bruckner)
Finale: Feierlich nicht schnell – langsamer