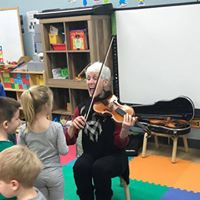 Jennifer Mitchell always enjoys playing her violin for young students, but she had EXTRA FUN in Iowa earlier this year when she performed for her Grandson Will's preschool classes.
With the help of Jennifer's son Aaron, the kids got to hold an old violin, run their fingers through bow hair, sing, dance, and even conduct as she played lots of familiar tunes for them. More budding musicians in the making!
The kids still talk about you coming in and playing for them.  You made an impact for sure!  Kids have pretended to be you by turning the blocks into a violin.  Just wanted to share that with you! Thank you again for coming in. – Jill Larsen, Crayons 2 Pencils Early Learning Center
See Jennifer in action here on the Crayons 2 Pencils Facebook page.